Testimonials
The following testimonials were written by just some of our happy sellers and buyers. They have all been kind enough to give us permission to show you their correspondence. Their letters and words are very gratifying. It seems that our down-to-earth and honest approach has earned us many friends - I think that's fantastic!
If you have worked with us recently or in the past we would love to hear from you and appreciate a testimonial! Your story will help inform our potential clients why it's good to work with us and how they can benefit. --> Leave a Testimonial <--
What Our Clients Are Saying About Us
Jennifer
Just a short note to thank you for all your help over the past few weeks. I appreciate so much your wisdom and guidance and attention to detail. Please accept this small gift as a token of my appreciation. Sincerely Jennifer.
Mr. & Mrs. Knudsen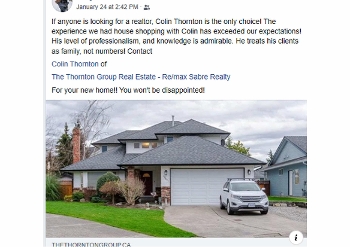 If anyone is looking for a realtor, Colin Thornton is the only choice! The experience we had house shopping with Colin has exceeded our expectations! His level of professionalism, and knowledge is admirable. He treats his clients as family, not numbers! Contact
The Thornton Group Real Estate - Re/max Sabre Realty
For your new home!! You won't be disappointed!
Mr. and Mrs. Laidler
Dear Greg,
First both my Wife and I want to take this opportunity to say how fortunate we are to have you as our realtor and friend. Once again you pulled off your magic. In your professional manner you negotiated the purchase price of our new home in the valley and sold our current address in record time. In fact I don't think the ink had dried on our for sale agreement, before the offer arrived.
If you recall, back in 1992 we found ourselves in a similar situation, we had purchased a home, prior to putting ours on the market, not a very settling feeling and all our friends and family thought we had gone quite mad. But there you were, full of confidence and ready to take on the challenge... Once again, the sale and move were done within the time frame that we hoped for. We couldn't have done it without you Greg!!
In closing, we also want to mention that our daughter is thrilled with the condo you found for her in New Westminster last year. Who knows, maybe our son will be looking for a bachelor pad next?
Thanks again Greg,
Best wishes.
Mr. & Mrs. Yordanov
We just want to begin by saying that we are very grateful to have met Greg and Colin. They are an amazing team who are very professional, patient and truly understand the ins and outs of how to conduct a successful sale.

They began by helping us find the house of our dreams and then shifted their entire focus on selling
our property. Following this we were visited by expert stagers and photographers which turned our apartment into something amazing. The property was then advertised on several realtor websites
as well as facebook and youtube. Through their actions and attitude, Greg and Colin make their motto
"Modern day marketing techniques with old fashioned service" ring true.
When all of this was said and done our apartment was sold for full asking price and without there even being an "open house".
We just want to again give many thanks to both Greg and Colin for their Five star service!

Sincerely,
Mr. & Mrs. Yordanov
Gabrielle & Rob
" Colin, Thank you for selling our apartment, we really appreciate the time you spent. From Gabrielle and Rob"
Paul & Elsje
Dear Greg;
Just a quick letter to thank you once again for the professional, and honest advice you gave my wife and myself, when we finally decided to sell our house, and purchase our current home.
Having just changed direction in my career, I could not afford the time, or the anxiety of chasing the empty promises that some agents in your profession offer. When we asked for your opinion regarding our selling price you were very honest, and to the point. "No pie in the sky"
Greg; I felt very confident in your knowledge of the real estate business, and your ability to handle the challenge that we had given you. The SOLD sign was up on our lawn within the time frame that we had agreed upon.
In closing we would also like to thank your assistant for all the help given to us.
Sincerely,
Paul & Elsje
M. Hamilton
"Hello Colin,
Thank you again for all your help and honesty during this purchasing process. You've truly made the first time buying experience a great one. It is hard to come by a realtor in this market now a days who is looking out for the buyer vs pushing a sale. "
Greg + Sue Davis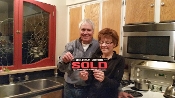 Thanks a Million Colin, sure nice to be able to move forward with our new life. Take care of yourself you did a great job ,wish your Dad well . You will always find success in your life because of your great work ethics. Sincerely Sue & Greg Davis.
Melani A
Colin Thornton is a dedicated realtor who brings new school ideas to the Thornton Group with his strong family values and hard working professional attitude I know he is the right choice for your next sale.
Thank you Colin!
Bethney Gulmans
Thank you Greg & Colin for making my sister and soon to be brother-in-law so happy with their new home!
She has said so many great things about you and your son. You guys are truly an amazing team!
Kind regards,
Bethney Gulmans
Edward and Nancy
SUBJECT: EXCELLENT SERVICE ABOVE AND BEYOND EXPECTATIONS
This letter is basically to let you know Greg, that both my husband and I were extremely pleased with the service you provided us. In the purchase of our first home we dealt with several real estate people before we were satisfied and willing to make a purchase.
You were organized and knowledgeable and had researched before taking us out to view. You were honest with us and even after the sale had gone through you continued to give us prompt service in doing follow-up paperwork and running around for us.
We would not hesitate to come to you first next purchase. Thank you for your willingness to provide a service not only before the sale but also after the date of possession.
Yours truly,
Edward and Nancy
Mike D
Colin,
Just wanted to tell you that you were so professional,approachable,accommodating and patient that after the first few minutes Into our search I felt confident that as a realtor you were the one to hang with. Thanks also for the care bag
Mr. Hume
When Greg is on Vacation Colin takes care of his clients and business. This is what Mr. Hume had to say : "Greg, Colin is really doing an awesome job with this. He negotiated like some kind of nuclear tiger and got the house for $330k, and I never had to wait for info or service despite being added to his work schedule. I am super impressed! You have a worthy heir to your name here. I can only hope for the same with one of my kids"
Gary and Betty Robson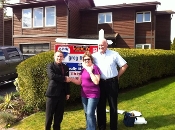 Thanks Greg for all your hard work and going above and beyond! Now you helped us find a great place and sold our present home in a very timely manner. Everything went so well, it was fantastic.Also a big thanks to Colin for your enthusiastic and helpful participation as well. Thanks again. Gary and Betty Robson
Sherri
I wanted to say thank-you from the bottom on my heart for all your assistance and support over the years – getting me into my first "very own home" and then helping me sell it to move on to our new adventure. You are absolutely a true professional and I will always hold you as the exemplar for any real estate transactions. Thank-you also for going above and beyond to assist with storing our items and then returning them – most appreciated!
Again….thank-you so much for everything!
Sherri
Karen McInnes
I am really glad I contacted you. I always trust your judgment when looking at houses and know you always have my best interests at heart. I wasn't sure you would want to come this far out into the valley but I'm glad you did. Thanks again Greg.
RE/MAX Canada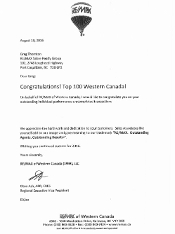 Dear Greg:
Congratulations! Top 100 Western Canada!
On behalf of RE/MAX of Western Canada, I would like to congratulate you on your outstanding individual performance on completed transactions.
We appreciate the hard work and dedication to your customers. Sales Associates like yourself add to our image and give meaning to our trademark "RE/MAX. Outstanding Agents. Outstanding Results".
Wishing you continued success for 2016.
Yours Sincerely,
RE/MAX of Western Canada
Mrs. Smith
April 18, 2016.
Dear Mr. Thornton:
I wish to express my family's sincere appreciation, gratitude and Thanks to you! We feel so fortunate that we had you to handle the recent sale of our mother's estate. As I mentioned to you, we chose you because our mom was impressed that you came every year with a calendar for her and then with follow- up phone calls over many years, she even knew you missed one year when you sent your son, also an agent, because you were ill. She felt that she had built a relationship with you and found you to be very pleasant. She had told us that it had to be you to sell her home if anything happened to her. We never questioned her instincts and as usual, she was right on. You were the best person to handle the sale of her home, without question. After her passing inJánuary 2016, I contacted you, you gave me detailed instructions as to how the real estate transaction would occur as I had never handled the sale of a home. Your knowledge and accuracy was absolutely excellent. You provided the family with a Fair Market Analysis and kept in contact with us frequently until we were ready to sell. We always felt confident you were looking after our best interests. You helped us get more for our home than we anticipated and within a 2-day margin! It is very obvious we had one of the best agents! We are so pleased. Also, despite some complex family dynamics related to the sale of the estate, your professionalism in handling each family member with respect will never be forgotten. You were amazingly tactful and gracious. Because of you, the sale of our family home went perfectly smooth in every way. I would highly recommend you to anyone.
Sincere Thanks,
Mrs. Smith
Kevin
Just wanted to say thank-you again for all your patience, guidance and support in getting us into a home we are all very happy in!
Colin Thornton 100% Club
Dear Colin:
Congratulations on achieving membership in the 100% Club for 2014! You should be very proud of your accomplishment and we consider ourselves honored to have you on the RE/MAX Team!
Your production and obvious customer-oriented service is a prime example of why RE/MAX Above the Crowd!
As the real estate network with the MOST market share and greatest brand recognition, we have the most to offer home buyers and seller. Due to professionalism exhibited by sales associates such as yourself, RE/MAX can lay claim to the phrase " RE/MAX. Outstanding Agents. Outstanding Results"
We look forward to seeing you at the RE/MAX of Western Canada Awards Gala on March 1, 2015 in Las Vegas to congratulate you in person.
We are proud to have you on the RE/MAX Team and wish you continued success for 2015!
Your Truly,
RE/MAX of Western Canada
Donna Jean
Hi Greg, just wanted to say hi and wish you and yours a Merry Christmas.
I do have to tell you, I was looking after my grandchildren Savannah and Maddox, Savannah who is 3 and a half years old...asks.."Grandma did you buy your house from Greg?" stunned I looked at her and said "yes and how did you know?". She said "we bought our house from Greg and he gave us a light like that one you have". Holy smokes at three years old she is talking about buying houses.

Cheers Donna Jean
Chris & Sharon
Thank you so much for all your guidance through this process. We are grateful to have had the opportunity to work with you.
Warmest Thanks,
Chris & Sharron
Kathy & Family.
THANK YOU!!!!!!! :You are the BEST. Pat is on her way home so I will call her later. Wow, everyone in the family is in awe of how you handled this - amazing. Again Thank you. Kathy and my entire family.
Amy and Matt
Greg,
First, I'm sorry this is so late. We've been busy doing mini renovations for the last month in our new home (painting, new mouldings, etc.) We really wanted to thank you so much for all of your help in finding our first home. We could not have found someone better than you for the job. We really appreciated all of your patience & the time you took to help us during this exciting time of our lives. I'm not sure we would have been able to make it through the process without you. We will definitely be calling you when the time comes to by our first house & we are happy to recommend you to anyone we know.
Thanks again,
Amy & Matt
DISC Assessment for Business Coaching
Colin can be seen as a person of good will. He wants to know what others think of him. He wants and tries to please. He is approachable, affectionate and understanding. His goal is to have and make many friends. At work, he is a good at maintaining friendly public relations. Colin likes feedback from his clients on how he is doing. He is enthusiastic and usually slow to anger. He is good at creating enthusiasm in others. He can combine and balance enthusiasm and patience. Colin can be friendly with others in many situations, but primarily with groups of established friends and associates. He is sociable and enjoys the uniqueness of each human being. He influences most people with his warmth.
Colin prefers not discipline people. He may sidestep direct disciplinary action because he wants to maintain the friendly relationship. Colin's Decisions are made after gathering facts and supportive data. He is good at verbal and non verbal feedback that serves to encourage people to be open, to trust him and to see him as receptive and helpful. Colin is good at solving problems that deal with people. When Colin has strong feelings about a particular problem, you should expect to hear these feelings, and they will probably be expressed in an emotional manner. He like to participate in decision making.
Colin usually uses many gestures when talking; He is both a good talker and a good listener. He has the ability to look at the whole problem; for example, thinking about relationship, being concerned about the feelings of others and focusing on the real impact of his decisions and actions. It is important for Colin to use his people skills to "facilitate" agreement between people. He tends to look at all the things the group has in common, rather than key in on the differences. Colin is comfortable with most people and can be quite informal and relaxed with them. Even when dealing with strangers, Colin will attempt to put them at ease. He is always concerned with other people's feelings and thoughts. He is good at calming conflict situations. others can sense that he is truly interested in helping people in a conciliatory role. He judges others by their verbal skills and warmth.
Value:
People-oriented.
Verbalizes his feelings.
Positive sense of humor.
Flexible.
Creative problem solving.
Accomplishes goals through people.
Builds confidence in others.
Negotiates Conflicts.
Optimistic and enthusiastic.
Mrs. Therrien
I listed my home for sale in June 1991 with Mr. Greg Thornton. I listed with Greg because he had kept in contact with me on the average of 3 to 4 times a year for about 10 years. He was NEVER pushy about it; if I was interested in selling. He was ALWAYS extremely well mannered and kept his phone calls short, just touching base so to speak. Then he's follow up with a short and very nice letter. All through these many years I would keep his business card. Finally when I did decide to make the change in my address, I felt Greg to be the right choice and I must say I am very very pleased. I was not an easy client but Greg had patience, understanding and really helped me make some important decisions that I know I'll have no regrets about. I felt that Greg had become a friend and my realtor and as a friend that has my best interests at heart. There was never the feeling of "lets just get this place sold so I can have another sale" I know that Greg wanted the best sale for me and if it meant taking longer then so be it. He was even more patient, understanding and helpful with me in finding my new home. Believe me that was NOT an easy chore as I wasn't even sure myself what I wanted or where. Had the roles been in reverse, I don't think I would have been as nice, patient or good as Greg was. You are very lucky to have Greg Thornton working with your firm in my eyes. I have told all my friends, family, and quite a few strangers i happen to talk to about Greg as a realtor. He's the only choice in my book. I'll definitely get him again when I'm ready to sell again down the road. I am a very satisfied client and only wish for more realtors to be like Greg. I've met many that I wouldn't let sell my dog house.
Yours Truly,
Dorothy G Therrien
Gene Maxwell
Greg/Colin,

I want to thank you both for handling the sale of our property in your usual professional manner.
Once again, thank you and best wishes for the future.

Gene Maxwell.
Tammy Sloan
I worked for Greg when Colin was a little wee guy of three! Our family has since had him act for us on numerous real estate deals and we have always had such great service/knowledge from Greg and we are pleased that we can feel safe in the future knowing that Colin will be there for us! You cannot go wrong by choosing the Thorntons!

Thanks Greg!
Glen and Roxanne
Greg,
We just wanted to send you a little thank you note for your efforts! My husband was very impressed & pleased with the package you put together for us! We will definitely refer you on to Friends & family & when we decide to sell we know who to contact! Customer service is unusual and GREAT customer service is a rare find! We do appreciate it!
Take care,
Glen & Roxanne
Multiple Listing Service Committee
Dear Mr. Thornton:
In View of your outstanding sales performance, we urgently require your attention to the attached questionnaire.
We realize that you are extremely busy but without your input, our survey will be incomplete. Your very high volume of sales makes you an expert on how we can improve the M.L.S catalogue and to help you be more efficient and achieve even greater success.
Although this survey will be published in the Daily Realtor for all members to answer, you are one of the very small group of members whose comments will be given a great deal of attention - please give serious consideration to your written comments. Should you wish to comment on additional topics relating to the Multiple Listing Service, please feel free to do so.
We sincerely thank you for your co-operation and we know your comments will help us ensure the M.L.S catalogue continues to meet the majority of needs of salespeople like you who use it the most.
Yours truly,
Forms Sub-Committee of the
Multiple Listing Service Committee
Mr. and Mrs. Ellis
Dear Greg,
We would at this time, like to thank you for all your help and advice you have given us in selling our home. Especially because it had previously been on the market with another company, and we truly felt abandoned.
When you took over, we could not believe the response. We have especially appreciated your keeping in touch with us each week; it really means a lot to know you haven't been forgotten.
We would like also to thank you for being so honest with us regarding selling price, competition, and the many little things we could do to help sell the house. Your helping us find a home in our price bracket was much appreciated. Your financial advice and professional approach are qualities you should be proud of.
We would not hesitate for a moment in recommending you to anyone else selling their home. It has been a pleasure doing business with you.
Yours Very Truly,
Mr. & Mrs. Ellis
Marlena
Dear Greg,
Now that I am settled into my new home, I thought I would let you know what a wonderful real estate agent you are!
I remember when you first approached me about my potential interest in moving. As I recall, it was, at least 10 years ago: when you learned that I was interested in moving from my Port Coquitlam home, you made certain that you kept in touch, I appreciated that.
When it was time to sell, you were the person I remembered. It was your interest in my potential plans that convinced me to list with you. Even though I had backed off selling several times, you did not lose your interest and made a sincere effort to keep in touch.
Once I decided to list with you, I was not disappointed! I was very pleased with the fact that you treat your clients with respect. You are very careful to explain details and you do effectively. You clearly recognize that selling a home is not a simple transaction; it is an "event" which involves a multitude of questions and emotional responses.
I was also delighted to list with an agent who really focused on the accurate value of a home. Once I received your outline of selling prices of comparable homes (the detailed market analysis), I was able to make a decision to list my home at a price that would be attractive to a buyer and fair to the seller. As a result, my home sold quickly. There are agents who will promise anything in order to get a listing- you are not one of them and I appreciated that fact.
Furthermore, you handled the potential buyers very effectively; I was never put in the position of having to "show" when I not wish to. Your sensitivity to the needs of your client was definitely impressive.
Finally, I was very pleased with you willingness to answer all my questions - In fact, you anticipated many of them and answered them before I even realized that I needed answers!
Once again, thank you for your excellent service! If I decide to move again (perhaps in another 10 years), I will definitely call you.
Marlena
H and D Vroom
Dear Greg,
When putting our home for sale the toughest decision we had to make was who we wanted to have represent us.
Remembering your dealings with our daughter 2 years ago we decided to give you a try, we are very pleased with our decision. Your expertise with regards to negotiating the highest price for our home was above our expectations.
You have become more than just our Realtor you have become a friend. We would recommend you to anyone that is thinking of making a move.
Sincerely,
H & D Vroom
Ian & Barbara
Dear Greg,
This overdue letter is to thank you for all the hard work you put in to the sale and purchase of our homes. We appreciated your methodical attention to detail. We realize what a difficult sale it was and we are grateful for your consistent advice with regards the sale contract. We also really appreciated you taking the flack from the purchaser. He caused us all a great deal of stress!
Ian and Barbara
Doug & Jackie
Greg,
We just wanted to express our appreciation to you for all your hard work you put into selling our house.
You made everything go so smoothly, you made it all come together. Actually, you are the first realtor with whom we have had one hundred per cent faith in. Your experience and good judgement showed throughout our dealings.
Thank-you so much, for everything your thoughtfulness was especially appreciated.
Doug & Jackie
Norman & Marion
Dear Greg:
This letter is to express our appreciation for your conscientious, professional efforts which resulted in the prompt sale of our friend Anna's house.
Your advice on the improvements required to make this property more attractive to buyers resulted in a higher than expected closing price. Your excellent involvements in every phase of the sale and closing process simplified this somewhat complicated transaction and were much appreciated. Thank you very much for all of your assistance and for working so well with us.
We look forward to contacting you for any of our future real estate transactions in this area. Please do not hesitate to use our names as reference for your excellent services.
Yours Truly,
Norman and Marion F
Mr. & Mrs. Reynolds
Dear Greg,
Many thanks to you for all the time and effort you put into making the sale of our townhouse happen. We appreciate the fact that you kept us well informed regarding any activity on the unit even during the Christmas season.
Our townhouse sold within a realistic time period and for a price that we were satisfied with.
Again thanks for a job well done we look forward to having you help us with our future real estate needs.
Sincerely,
Mr. & Mrs. T. Reynolds
Joy
Dear Greg;
Just a note to thank you, again for donating your time on sunday to help us make up our minds regarding selling + buying a new home. You've given me a lot of your time over the last 10 years, or so always willing to try to help me decide the best thing to do. I've never met anyone so patient, always giving me all sides of the story, based on your vast experience. You never push your opinion! Only provided the facts. I'm very grateful + look forward to you selling my house one day when the time is right.
Sincerely Joy
Ellen B
Greg,
This note is a long time coming – my apologies. I just wanted to thank you for being an excellent real estate agent and a wonderful person. I liked your honest down to earth up front style, you knew the market and how to present my house so it would sell (and it sold quickly). Thank you also for your understanding and thoughtfulness with the money situation and the 3 hour time change. Also for the phone call to my sister. We are settling in – still miss Chalmers especially the girls.
Every time we go to my sisters we pass "Thornton" street. The girls always say "There is Greg's Street!"
Anyways take care
Thanks again
Ellen
Roger
I have recently listed our home with Greg Thornton of your company. The reason I am writing this letter is to compliment Greg's professional handling of our situation in today's no care attitude world it is refreshing to see someone attack this with enthusiasm and care. I would recommend Greg as a Real Estate agent to anyone without hesitation.
Yours truly Roger
Louise
Dear Greg:
"Thanks" doesn't seem like enough to say to you for all you did for us over the past few months! But gratitude is definitely what we feel. You went over and above what other realtors would have done in what turned out to be a stressful and at times difficult sale and purchase. We will be forever grateful you got the job done when I was ready to give up! Thank you, Thank you, Thank you! And a friendly thanks for the lovely gift basket and wine!
Sincerely Louise
Mr. & Mrs. S
Ralph & I would like to say "Thanks again" for all your hard work and patience in selling our home! Even though the market was very competitive at the time, we feel that you did everything possible to ensure that our home received good exposure. I especially appreciate the time and effort you spent following up on everyone who viewed our home.
We are more than pleased with our new home and want to thank you so much for taking the time to get to know us, our needs and our preferences. I am sure that is why we only had to look at four homes before choosing the perfect one for us.
We are sure that your professional knowledge of the real estate business and your complete service to you clients are the qualities which have earned you top sales and a reputation of integrity over the years.
We would highly recommend you to anyone needing your expert services. We have greatly enjoyed doing business with you.
Pamela & Jamie
Dear Mr. Thornton,
Please accept my humblest apologies for the lateness of this letter!
Jamie and I would like to express our most heartfelt gratitude for everything you have done for us. All the time you spent providing us with a market analysis and all your wonderful counsel and advice during the turning point in our real estate partnership. You helped make what seemed to be so frightening into something actually plausible.
As you know, we were able to hold on to our home at this time and it is with thanks to you that we were able to present our offer confidently and prepared. Your professional efforts and personal follow through are very much appreciated. We very much look forward to doing business with you in the future.
Thank you again, and the best of wishes from us both
Yours Sincerely,
Pamela and Jamie
Alice & Ray
Dear Greg,
Ray + I would like to take this opportunity to express our sincere appreciation for all the time and effort you put into selling our home.
You were always there to answer any questions and to offer a lot of good sound advise, whenever it was asked of you. The fact that you were completely honest with us and always kept us informed as to what was happening inspired complete trust in your ability to do the job of selling our home and do it well.
We have recommended you highly to those who have inquired and will continue to do so in the future. Thanks again for everything Greg.
Sincerely
Alice & Ray
Lucille C
Dear Greg,
I want to thank-you for selling my house and for the key ring. You are the kind of real estate man everyone should have.
You were put into an awkward situation and yet you were completely honest with both of us. Working hard and keeping us both informed at all times.
The trust I had in you to look after me and the house was unbelievable. It was so nice to know I could rely on you for everything to do with selling a house.
You even took the time to see the 2nd mortgages, which I don't think many real estate men would do.
I can't thank you enough, but you can be sure your name will always be highly recommended to anyone I know.
Thank you again,
Sincerely
Lucille
Kelly
I wanted to thank you Greg, for once again, being there to support my step-father through the purchase of his new home. You have been a good friend to him, and he continues to proudly hang your yearly calendar.